Hello…
This week we've celebrated Deaf Awareness Week, and what a week it's been! I've never seen so much going on… so I thought it would be a great idea to do a blog on the highlights of the week!
Maisie's star appearance in an ITV advert!
The Oscar Award winning actress Maisie Sly has hit our screens once again, this time in an advert for Aldi on ITV. Perfect way to kick off Deaf Awareness Week!
All on the Board – Transport for London
It was fantastic to see this board at a Tube Station in London. They've really thought of it all!
It was also Mental Health Awareness Week…
Deaf people are more likely to experience mental health issues. I thought it was important to bring this issue to light…
Celebrities supporting Deaf Awareness Week
From the likes of John Bishop, Chessie King, Russell Howard and many more… see what they have to say!
Released my first YouTube video: 'My Hearing Loss Journey'
I thought it was a perfect time to release my first proper YouTube video! In the video, I talk about my hearing loss journey and Deaf Awareness Week. It's subtitled! (click 'CC' button)
Flash Mob: 'This is Me'
I loved this video of Wayne Barrow and his students doing a flash mob and signing 'This is Me' from The Greatest Showman!
'How Do You Wear Yours' Campaign
Action on Hearing Loss released a campaign for DAW called #HowDoYouWearYours – It was amazing to get involved in their video!
I celebrated 3 years of Deafie Blogger!
I know… time flies! I wrote a blog on it. Read… '3 Years of Deafie Blogger'
I was featured in the local paper!
To raise awareness in my local community, I was featured in the local newspaper talking about my role as a Deaf Blogger, my subtitled cinema campaign and Deaf Awareness Week!
Read it here: 'What are the best ways to communicate with a deaf person? Blogger offers top tips'
I snapped lots of photos on Instagram!
Check them out here: @deafieblogger
'Deaf Funny' and 'Hearing Funny' blogs on British Deaf News
Want a giggle? I wrote two funny blogs with GIFs. Here's a preview!
Telling a hearing person you're D/deaf… *SHOCK HORROR… HOW DO WE COPE?*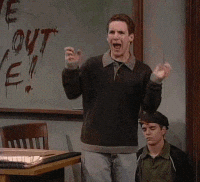 If you liked that… you'll love these!
Read: 'Deaf Funny'
'Living with deafness isn't all doom and gloom, we learn to live with it and some of the situations we have to see the lighter side of! I find that situations with a lack of deaf awareness are funnier to tell if you can laugh about it!'
Read: 'Hearing Funny'
'These situations have happened to me, or people I know and they are sometimes a reminder as to why we celebrate Deaf Awareness Week and raise awareness of deafness in the hearing world!'
—
I'm sad it's all over, but it was amazing to see so many people getting involved in raising awareness. Bring on next year! What were your highlights of the week?
Love E x